Celebrating all soaring: past, present and future.
August 14, 2020
We've added better way to manage profiles. Check out the
My XC Skies
section on the site once you log in. You can delete, reorder, rename, or clean up anything you've saved along the way.
A new layer, called
Conservative Lift Height
has been added. It is a conservative version of Top of Usable Lift. It is derived by finding the minimum altitude convective thermals will reach based on locating where the environmental lapse rate is under the dry adiabatic lapse rate by a bit. It effectively ignores the contribution from surface heating, and simply looks to identify structures in the temperature profiles that would inhibit upward parcel movement (assuming such surface conditions are realized). As models continue to improve resolving details with temperature profiles during the day, the nuanced structures within the boundary layer are becoming more usable for soaring pilots. All skew-t plots in XC Skies now note the location of this conservative lift height along the temperature profile (a little black dash).
Happy Soaring!
August 10, 2020. A message to our community.
Thank you for your continued support of XC Skies over the years. We have few things to announce today.
First, some of you may have noticed a few hiccups with the website performance over the last 2 weeks. This is due to a recent large increase in use and popularity. We believe we have addressed this issue and you should find the performance and stability better than ever with this minor release today.
Second, this minor update to the website takes advantage of our new weather API engine and improved algorithms. A few things will look a little different, but all of the functionality is in tact, and we hope you find the small changes a better user experience. Dozens of bugs have been resolved and there are many new features available for exploring routes, point forecasts, and lift profiles (with more to come over the next month). A complete list of fixes and features will be added to the website shortly, given we are updating the site a few days earlier than scheduled.
Third, we'll keep the last version running for awhile in case you're concerned with these small changes, or anything unexpected happens. You can find the last release here:
https://last.xcskies.com
Feel free to email with any questions or concerns (info@xcskies.com).
See you in the sky!
-The XC Skies Team
Don't have an account yet? Sign up now and use most features of XC Skies for free for 30 days.
XC Skies Soaring Forecasts
Project Highlights
• Interactive soaring forecast maps and tools for virtually every flyable location on planet Earth.
• Our goal is to provide timely and highly useful soaring forecasts to allow pilots to make better decisions on when and where to fly.
• XC Skies is enabling pilots to break their personal bests and smash records by providing detailed soaring parameters that allow area, point, and route cross-section analysis.
• Pilots can visualize forecasts with our interactive maps and XC exploring tools to investigate the potential trends over the next upcoming days.
About XC Skies
Mission
Our mission is to provide timely and useful global soaring forecasts which are always available to pilots via the web through a variety of interactive tools.
How it Works
XC Skies creates visual layers of basic soaring parameters, wrapped up in an interactive application that can be used with any popular browser over the Internet. You can use XC Skies from anywhere in the world! By running our code and algorithms against the forecast model output from NCEP and other sources, we can parameterize essential soaring elements that are critical to understanding soaring conditions.
Features
• Leverages a Web Browser Map framework to provide very useful geo-references.
• Users can save as many profiles as they like to quickly assess predefined regions. A default profile can be selected, allowing the application to automatically load with the parameters and location saved.
• Investigate any point by clicking anywhere on the map. Review soundings via an interactive Skew-T application for both model output and the most recent balloon sondes released across the planet.
• Analyze 3+ day point forecasts by clicking any location on the map. These time-height plots show a tremendous amount of information in a simple to read graphic format.
• Review soaring forecasts along routes and trend the day along a track.
Screenshots and Examples
Map Forecasts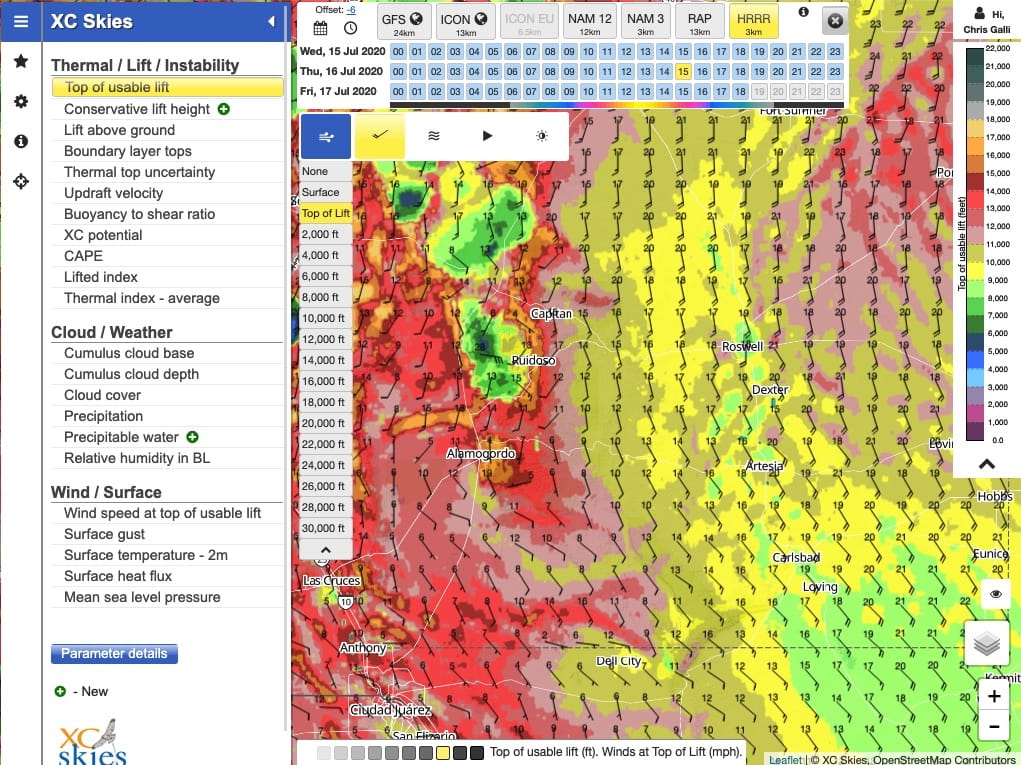 By default, useful soaring parameters show as layers on fully interactive maps. These quick views are the entry point into further reviewing details of the soaring potential for any forecast time and location.
Route Forecasts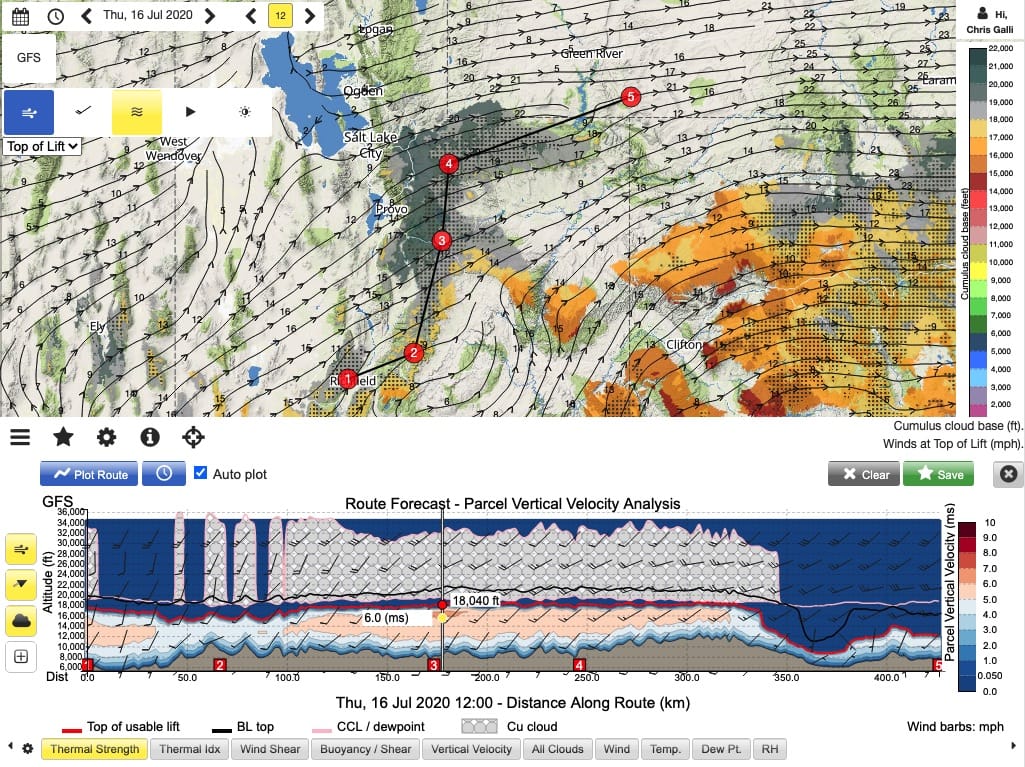 Build routes on the map to review the vertical details along the path. Use the time options to indicate a start and end and see how the day evolves along a route.
Skew-T Analysis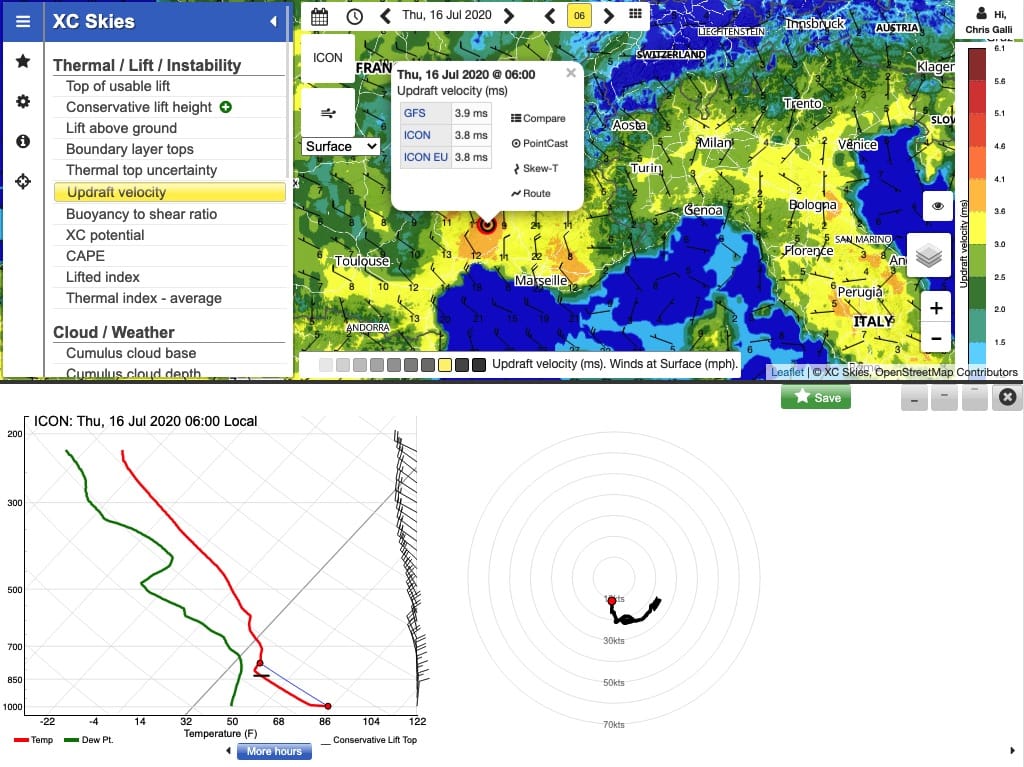 For Skew-T enthusiats, a single click allows quick review of the temperature and dew point profiles and any location and time.
Detailed Review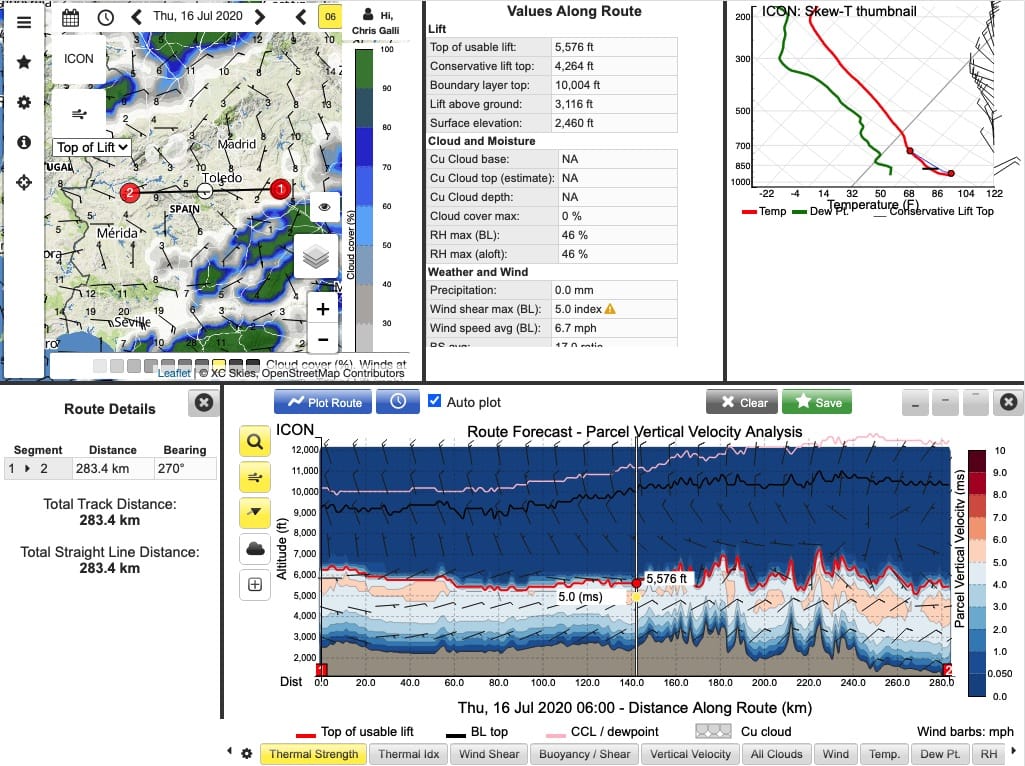 Detailed reviews of routes or point forecasts allows a comprehensive look into soaring potential details and weather threats alike. With Skew-T plots for every moment on the lower panel plots, review of the internal structures of lift potantial and RH (clouds and thunderstorms) is simple.
Forecast Models
XC Skies uses both global and regional forecasts. Current models include:
GFS. A global model at roughly 24km resolution run by NCEP in the United States. Updated every 6 hours.
ICON. A global model at 13 km resolution run by DWD, the German weather service. Updated every 6 hours.
ICON Eu. A 6.5 km resolution model including all of Europe. Updated every 6 hours.
RAP. A 13 km resolution model across the continental United States. Updated hourly.
NAM. A 12 km resolution model across the continental United States. Updated every 6 hours.
NAM Hires. A 3km resolution model across the continental United States. Convective resolving and updated hourly.
HRRR. A 3km resolution model across the continental United States. Based on the RAP and known as the High Resolution Rapid Refresh model. Convective resolving and updated hourly for 18 hour forecasts.